A few months ago on the Barstool Sports Podcast "ComebackSZN" feat. Johnny Manziel and his agent Erik Burkhardt, Burkhardt stated that he was confident enough in Kyler getting drafted top 10 that he would be willing to bet 100k on it.  At the time I was one of the few people who saw Murray as a guy who would go in the top half of the first round and later one of the first stating he would go #1.
All of this isn't to toot my own horn, but to bring up the fact that Burkhardt being an agent has access that shmucks like me could only dream of.  And while I know agents make the big bucks, I'm not sure Mr. Burkhardt is to the point where throwing 100k on a side bet won't hurt him at least a tad.  As always, as the draft process plays out, things get shifted around massively and wouldn't you know it…not only was Burkhardt correct…he was correct in a massive, massive way.  Mel Kiper's Mock Draft in mid-February had Murray  going #13 to the Dolphins.  His most recent mock released has Murray at #1, as does just about everyone else.  Fueled by both the system new Cardinals coach Kliff Kingsbury runs as well as his now infamous quote while still at Texas Tech about taking Kyler #1 if he was an NFL coach (That process of Kliff going from Tech to AZ might have to be another blog someday), Kyler #1 is seemingly unanimous in the media's eyes.
But what if he isn't?
As most are aware, there will be one tiny issue with the Cardinals should they elect to pick Murray in April.
You know…the guy they drafted last year.  In the first half of the first round.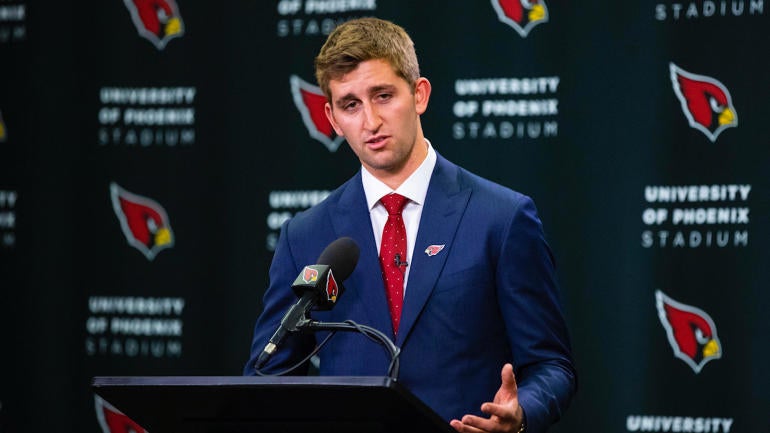 Josh Rosen doesn't fit what Kliff runs offensivelynear as well as Kyler, but to draft a QB in the first round back to back years seems like idiocy, no?  Perusing the interwebs to get Cardinals fans feelings about drafting Kyler led me to a quick conclusion.  They are massively against it, and for the aforementioned reason.  I fully understand their sentiment, because after all the atrocity that the Cardinals fielded last year had little to do with  Josh Rosen.
Take a look at this tweet.
Seems innocuous on the surface, until you look at Rosen's sack total for the entire season. FORTY-FIVE, good for 7th in the league and a hair over 10% of his drop backs  (which was good for 5th in the NFL).  38 of the sacks Rosen took  were the fault of the lineman Kyler in theory will be able to elude rushing defenders due to his superior mobility, but that isn't my point.   My point is, the Cardinals have absolutely no idea what they have in Rosen.  85% of his sacks were his linemans fault which DOES lead the league.  Poor guy never had a chance. Scrapping an unknown seems a bit risky, especially when it's such a high capital unknown.  With the first pick in the NFL draft you effectively have the league by the balls.  You can literally do whatever you want.  Every pick is available, as is every trade option.  The above statistics as well as the Cardinals abysmal 3-13 record illustrate that much, much, more than a quarterback is needed for improvement.  Guys like Nick Bosa or Quinnen Williams for example could help their 26th ranked defense.  They could also trade out of the #1 pick and get multiple picks in return.  I know no one is thinking this will happen, but using the #1 pick as capital to build around Rosen is a completely rational idea.  Everyone  (including me) has Kyler-Mania, but if you look at Josh Rosen for what he is: a largely unproven entity worth a top 10 pick in last years draft; drafting Kyler is ludicrous.
I fully expect the Cardinals to do that though and it's also the move I would make, but at what point would you have to refuse that notion? What I mean by that is, what's the least amount value in players/picks/talent the Cardinals are willing to receive in exchange for Josh Rosen?
For example: If I was the Cardinals GM and someone offered me a second-round pick for Josh Rosen, the ink couldn't fly fast enough.  You'd be essentially be gaining a second round pick, as well as a QB drafted 9 spots higher than the one you traded.  Wins all around, right?
But what if that offer isn't there? What if someone only offers you, say, a 4th? Is it still worth  it?
The issue  is the fact that the Cardinals have no leverage in this situation, ESPECIALLY if Rosen is still on the roster post-draft.  If everyone and their dogs are correct in assuming that the Cards will indeed pick Kyler, there's no way NFL owners are going to oversell for Rosen.  And I don't think there is a long line of GM's beating down the door to snag him after what he showed last year be it his fault or not.  If the Cardinals receive nothing but low-ball offers, will that force their hand to build around Rosen, or are they fully committed to revamping  their offense?  Say their best offer is a 3rd and 4th round pick? Do you take that knowing you're straight up getting fleeced?  Is Kyler Murray THAT valuable? Aaron Rodgers didn't hardly play at all his rookie year.  It's different circumstances, but what if the Packers had traded him? Hell, look what the Falcons did when they traded Rodger's predecessor.  The Falcons traded Brett Favre with a total of 4 passing attempts for a pick that ended up being the prolific Tony Smith with 329 career rushing yards to his name.
Favre had that many by the end of his  second season on the Packers for what it's worth.
Essentially, we know the same amount about Rosen as we do Kyler.  Is a 5'10 Qb of slight stature worth what would in reality be 2 first round picks, one of which is #1 overall?
Using the below chart, I'll lay out how I would run things if I was Cardinals GM Steve Keim:
If you have never seen this before, this is the chart that coaches and GM's use to analyze draft day trades.  Currently, I value Rosen at a minimum of 270 points, or the last pick of the second round.  Not to say that's the quality of player he is, but with the advantages Kyler brings in Kliff's system and the shortcoming Rosen will have in it, that's the value of Rosen for the Cardinals. Of course, I would never reveal this as I believe that ultimately the QB hungry team-personnel in this league will reach on Rosen and give up a second.  But  what if they don't what do you do? Get willingly fleeced? Draft Kyler and take bread crumbs for what could be a pro-bowler? It's a hard decision to make.  I think it's a very real, although unlikely possibility that the Cardinals have to consider building around Rosen. I think they could get Oaklands two first  round picks and maybe a 3rd or 4th for that #1 overall.  It's certainly an argument that say, a Quinnen Williams+Cody Ford first  round tandem would have a bigger impact than a rookie QB.  Lotta holes to fill remember?
The question though isn't where is the line of keeping Rosen, but rather if it exists at all.
---
–And I don't think it does.
So let's stop kidding ourselves.  Putting our thinking caps on and playing GM is fun and all, but at the end of the day…Kyler Fuckin' Murray is gonna be a Cardinal.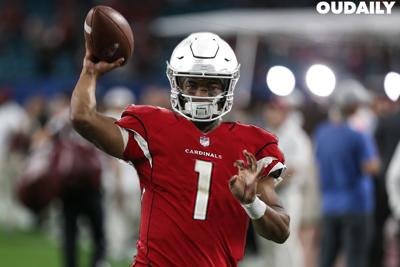 Also:
This will be pornography for Lincoln Riley
Thanks for reading.