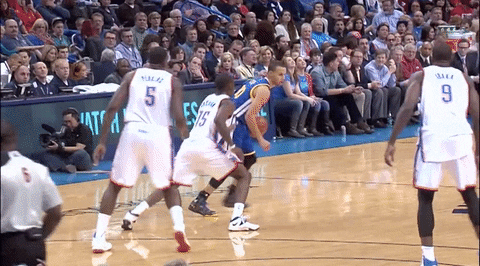 *splash*
We've been blessed as basketball fans to witness the prodigious Stephen Curry at the exact right time the game deserved to have him.  While there's no doubt in my mind that  Steph is and will be the greatest shooter of all time, it's not as if he's the first ever *great* shooter.  He is however, the first great shooter to play in the new style of NBA with 3-point shots going up like fireworks on the fourth and a pace to make a marathon runner suck air.  Needless to say, that combination will put Steph Curry in very rarefied air.
If my math is correct (it is), by the end of next season Steph has a solid chance of sitting in sole possession of the record for most 3-point shots made for a career.  I remember like it was yesterday when that scrawny dude from Davidson was making bonafide pro prospects look like absolute scrubs in the NCAA tourney.  Now he's breaking an NBA career record in 6 less seasons than the current record holder. Directly after he drained that pump-fake 3 they panned in the crowd and found this man.
Little did he know…
A decade later after the Davidson magical run that made Steph Curry a household name he has morphed himself into much more than just that.  He's one of the faces of the league.  What's so special about him being in the NBA at the current moment though is that as the game revolutionizes towards the style of play he excels in, he remains at the top of his craft.
In the 2014-2015 season Curry set the single season NBA record for the most 3-point field goals made in a season when he stroked a cool 286.  What did he do for an encore performance?
He  broke the record again.
BY 116 SHOTS!
To put that into perspective,  Ray Allen averaged 148 3PM (3-point Make) a season for his 20 year career.
As great of a shooter as Steph is, Ray Allen is one of the few other shooters that can claim residence in the same stratosphere as him.  If Steph is a 10/10, Ray is an 8.5 or a 9.  The difference though is obviously the era they play in.  Steph has helped revolutionize the game from the era Allen played in because coaches are finally starting to tailor offenses toward the 3-point shot and a faster pace of play.  Ray Allen only attempted over 600 three point chucks in a season one time, Steph on the other hand has thrown up over 600 in every full season he has played in since the year before Steve Kerr became his coach.  Adding to that, he's thrown up over 700 twice and over 800 once.
The volume of 3-pointers made by Steph is more indicative of era more than anything so it's interesting to think of what type of numbers Ray Allen, Reggie Miller, Steve Nash and even Steph's dad Dell could have done were they born 20-30 years later.  Unfortunately for us, they weren't, making them akin to the great quarterbacks of the 1990's watching Matt Stafford chuck up 5,000 passing yards every year.
What we do have now though is a golden age of 3-point shooting that in my opinion make the NBA a more fun league to watch, with Steph leading the charge.
So the question I have isn't when Steph will break Ray Allens record, or even by how much.  My question is, is it possible for Steph to actually double up on the soon-to-be former record holder for 3PM?  As absurd as that sounds it's far from inconceivable.
Here's how the list shakes out right now as of 4:36 MST on 01/09/2018.
The way I see it is this.  Steph sits at the moment 693 3PM behind Ray Allen in the record books.  Here's his current per game stats over the course of his career.
To examine the feasibility of Steph breaking Allen's record you have to extrapolate his stats into the future, but it bears the question of what stats to use.  Looking solely at his 3PM/3PA lines you can see two clear delineations in volume starting in  2012 and again in 2015.  Therefore, for the sake of this exercise I'm throwing out the numbers prior to when Steph really became Steph.  
If you look sheerly at what he's done since the start of the 2015 season when his shooting volume really got into it's current form he average 4.6 3PM a game.  Using that number, it will be 1.83 seasons until he breaks Ray Allen's record.  With a little over a third of the current season already in the past, this places him at Allen's mark sometime in the beginning of the 2020 season, or even at the end of next season if the volume bumps up slightly.
He'll be 31 at the end of next season, which will be his 11th.
To double up on Ray the magic number is 5946.
If he continues his trailblazing ludicrous pace he's on currently, let's see how the math shakes out.
He's already hit 2,280 so to double up he needs 3,666 more 3PM (5,946-2,280).   Let us also factor in the rest of this season, which would be 4.6*52 (30 out of 82 games have been played).  You get 239, so 3,427 more at the end of the year are needed for the double-up.
The fact that he hasn't hit that number after a decade in the league may seem alarming to those subscribing to the thought of him doubling up, but you have to remember one thing.  He's only been on the current pace for 4 years.  If he would have averaged 4.6 3PM a game for the past 7 years instead of 4, he'd have 3,334 3PM and only be a little over 2,600 away.  Much more manageable.
Since he wasn't though, we have to work with what he's done.
If he sustains this current pace, he would need to play 9 more years to double up on Ray Allen's record.  In 9 years Steph will be 39 years old.  One would assume his pace and volume would slow down with age, but the one thing he has going for him is he's never been a guy who's getting buckets because he's an athlete out there.  What I mean by that is if he slows down a step or two it won't  affect his game as much as it would a guy like say, Shawn Kemp. Or Steve Francis.  Or what I suspect to soon be Russel Westbrook.  Steph's much more like Kobe Bryant than those guys, in the sense that he's a finesse scorer.  I  don't see his scoring slowing down drastically once his body starts to age.
Can he keep this pace up for 9 more seasons? I would say that's highly doubtful but remember 9 more seasons puts him at only 39 years old.  Two current NBA players (Vince Carter and Dirk) are 40, and similar style of players to Steph like Nash, Jason Kidd, Jason Terry, and Manu Ginobili all played into their 40's.  Assuming he does slow down, Steph could still presumably have at least two more seasons to achieve the unfathomable.  Just think if he didn't have the ankle injuries early in his career or the one that sidelined him much of last year.  He'd be a shoo-in to do it.
It  very  well could happen but while a doubling-up of the current record is entirely possible it's probably not probable.  What's going to be interesting to see though, is if Steph does get close to the double, just how many more names will be above Allen's at that point.