By now you have seen where the favorite to win the most coveted individual award in all of sports is the outfielder for the Oakland A's, Kyler Murray.  When the Center Fielder wins the Heisman in a few days, many will see it as his penultimate or third to last (is there a word for that?) act as a Quarterback.  Win the Heisman, Play Alabama, Maybe play the week after, report for the A's.  To many, that is the destiny for one of the most electrifying college football players of all-time.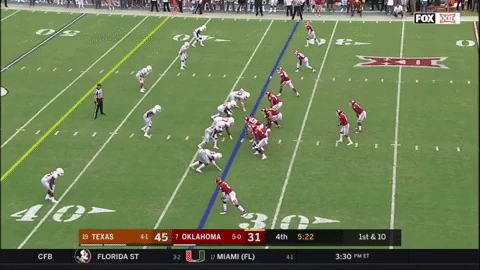 And that my friends, would be a damn shame.
But to most, it's a foregone conclusion.
While that may be the PREDICTED option, it's not the only option.  I made a bold claim a few months ago saying that Kyler Murray would take an NFL snap before he saw the inside of a Big League baseball stadium.  That may sound absurd when you factor in the 5 million-ish dollar contract he inked with the A's….
But then there was chatter about Kyler in the draft.  You see, standing in at  around 5'9, most of the football landscape considered him a gimmick (ahem *cheatcode*), or the product of a system.  SURELY a guy that short could never be an NFL starter. But, Todd McShay claimed just the other day that if he enters the NFL draft and committed to the sport, he would be a first round pick.
What a shitty situation to be in, right? God Kyler must be dealing with an insurmountable amount of stress trying to decide which sport he wants to play as a first-round draft pick.
"But his health! And guaranteed contracts! Wait till you see how much Harper gets this year! He'll never make that much in the NFL"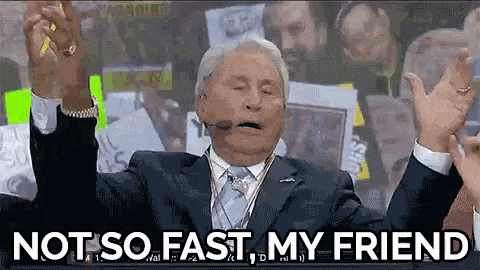 A very intriguing article by BaseballAmerica.com came out today which made a very strong case for Kyler playing in the NFL.
Murray has a $4.6 million guaranteed signing bonus in hand that he will be fully paid as long as he reports and plays baseball going forward (the contract specifically allowed him to play for Oklahoma this fall). But in baseball, that $4.6 million is the only significant payday he will receive for the next five to seven seasons. Considering he has less at-bats under his belt than his peers, he's likely two to three seasons away from reaching the majors. And then he would be another three seasons away from arbitration. So his first big payday for baseball would likely not come until 2023 or 2024. His first chance at free agency would likely come after the 2026 or 2027 seasons. At that point, Murray will be 29 or 30, which means he's likely to get one significant free-agent contract if he ends up being a very productive regular.

In football, Murray is consistently projected as a first-round pick. His college teammate Baker Mayfield landed a $21.8 million signing bonus and over $32 million in guaranteed money by being the No. 1 pick in last year's draft (all contract information here has been gathered from Spotrac.com). And if he plays reasonably well, Mayfield will get a big payday as a free agent after the 2022 season. Even if he signed a five-year extension, Mayfield would hit free agency again in 2028 for a second big payday.
Here's a direct player vs. player comparison.
To offer one more comparison, Lions quarterback Matthew Stafford and Dodgers lefthander Clayton Kershaw grew up together. Kershaw has been one of the best players in baseball over the past decade. Generously, Stafford could be described as a slightly above-average NFL quarterback. He's made one Pro Bowl. In 10 seasons, Stafford has earned $178 million. If he plays the final four years of his current contract, he'll have earned over $262 million. Kershaw has earned $173 million so far over 11 seasons. He will earn $266 million by the end of his current deal in 2021.

Both players are 30 years old, but because he's a quarterback, there's a good chance Stafford's career will last longer than Kershaw's. In 2018, seven of the NFL's 32 starting quarterbacks are 35 or older. Four are 37 or older. Of the 196 pitchers and hitters who qualified for the ERA or batting title last season, 11 were 35 or older. Only three were 37 or older
To be completely honest, I never would have thought Stafford had earned near as much as Kershaw but the way writer J.J Cooper laid it out, the NFL appears to be the BETTER option.
When I compared the two leagues in my head, my mind wandered to visions of Murray riding around the country in a shitty charter bus to cities like Albuquerque and grinding for a few years at the minimum.  Then, I looked at what he would do in the NFL.  Sure, he may be a backup, and he may not even turn out to be good at all; but at least he's riding jets and cashing checks.
To see the economics laid out like that to make my point even stronger makes it very hard for me to believe that Kyler IS NOT in the NFL next year.  Sure, Bryce Harper is going to sign a contract this year that will likely out-earn any NFL player ever.  I get that. But once again, how many contracts are there like that? Yea, exactly.  ONE.
In the past 5 years I've seen Matt Ryan, Matt Stafford, Joe Flacco, and Jimmy G sign absolutely monster contracts while being around league average.  The QB arms race makes it a very good position to play in today's NFL.
Just for  shits and giggles, I looked up how the #9 draft picks in the MLB draft are doing from 2007-2012.  This time frame gives the players enough time to have reached the Big Leagues, and also sign a second contract.
*Hit or miss is defined by a comparison to NFL backup QB money.
2007-Jarrod Parker
Retired in 2014. Career Earning 3.5 mil
Miss
---
2008-Aaron Crow.
Had some good moments, and was even elected to an  all-star game.  He eventually flamed out however and was playing in Mexico this past year.
Career  earnings: 7.1 million
Miss
---
2009-Jacob Turner
Piddled around the big-leagues for a while, currently playing in Japan.
Career earning: 8.1 million.
Miss
---
2010-Karsten Whitson
Ended up not signing, went to college.  Drafted again in 2014 in the 11th round.  Played one year of A-ball.  Currently out  of the league.
Miss
---
2011-Javier Baez
Household name, and a top-10 position player in the MLB today.  World Series Champion.  Up for a lucrative contract in arbitration next year.
Hit
---
2012-Andrew Heaney
Solid starter for the Los Angeles Angels.
Avoided arbitration last year by signing a 1yr/$800,000 contract.  Not exactly breaking the bank there.
Miss (for now at least)
---
As the players above show, there is no reason to believe that Kyler would amass a great fortune playing baseball.  If he grinds it out and shines like Javy Baez, then hell yea, he made the right choice.  That's 1-6 though, which would get you cut from even the minorest of baseball teams.
The most telling thing to me though, and the basis of my take from a few months ago was the fact that I believe Kyler sees baseball as a means to an end, but actually LOVES the sport of football.  If that wasn't the case, then why the hell would he even play this year?Why risk 5 million dollars and potentially hundreds more? You only do something as bold as that if you're in love with another option.  The kid was a high-school legend for gods sake, and quite possibly the best player to ever play in a state littered with Hall-of-Famers with hords of folk lore surrounding them.  Literally.  He may have been THE BEST high school football player of all time.
He reasonably thought that he had one year at Oklahoma to play the sport he loved, and then go off into the sunset to a minor league stadium in Mesa, Arizona.  Now that he has a reasonable second option that would likely be both financially and emotionally more appealing, you tell me why he's not going  to the NFL.
I have trouble visualizing Kyler taking hacks on a poorly sodded field in some bullshit town like Poughkeepsie with a dozen people watching…when all he has to do is think back to the many memories that show what he is capable of on a football field, and to know that's an option.
And I see no reason why he shouldn't, for his sake…
And for my greedy eyes sake as well.
He's the epitome of the create-a-player from NCAA that was not allowed in my household because it caused fist fights.
But, surely, December 29th can't be the last time we see this wizard, can it?
---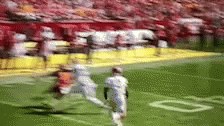 SAFE!