Holiday season is almost upon us, which means two things.  Days off work, and filling those days with uselessness and a large gaping lack of productivity.  Also Bloody Mary's.  Lot's of Bloody Mary's.  
I for one believe there is nothing else quite like it in the world when you wake up in your old house, not quite knowing or caring what day it is and seeing the first half of some shitty bowl game being played in a place such as the Bahamas with bleary eyes and refreshing your memory on the fact that some random team from the inter-mountain west is in fact a Division 1 school.  Morning beers are acceptable for a whole week, because A) you're on vacation B) You're sure as shit not going outside in that weather and C) It's the end of the greatest part of the year, so its a celebration, a memorial service, and a grand showing of lethargy all in one.  Do you necessarily care where the hell "Middle Tennesssee State" is? Absolutely not, and I certainly don't either.  But you have bets and bowl pick 'ems to win, so you'll cheer for some JUCO transfer you've never heard of and undoubtedly curse him to eternity when he fumbles, only to forget about it the next day because the showdown between the two classic powers University of Alabama-Birmingham and Northern Illinois looms large and research needs to be done.
Picks are below.  All odds come from Dec. 3, BOLD teams are for the  pick'em.  Spread winners are listed after.
New Mexico Bowl: North Texas vs. Utah State (-11) 
Will either one of these teams have a head coach for this game? Matt Wells already dipped out of Logan, and Seth Litrell is linked to several Power 5 jobs.  Fun Fact: This game is in Albuquerque, New Mexico which was once described to me as "The Detroit of the West".  Sounds a lot closer to a place like Logan, Utah than it does Denton, TX.  Utah State has the better squad, but North Texas keeps it within 11.
Cure Bowl: Tulane vs. Louisiana (+4) 
Sneaky rivalry-ish game as the two squads from the boot head to Orlando to fight for the claim of first runner up in Louisiana football supremacy. ULL moneyline here as their offense has looked a little better at the end of the season.
Las Vegas Bowl: Arizona State vs. Fresno State (-3) 
Eno Benjamin is a stud, but the best player on either team, ASU's N'Keale Harry has decided he's better off prepping for the draft than in a useless bowl game.  I would demean him for missing out of a free trip to Vegas, but to be honest, being a free man in Tempe with loaned agent money is likely MUCH more fun than being on a curfew in the city of sin.  I like Manny Wilkins as a college QB.  He certainly looks the part, but I don't think he's accurate enough to make up for the hole the 6'4 Harry will leave.  Fresno State -3 as well.
Camellia Bowl: Eastern Michigan vs. Georgia Southern (pick'em) 
I'm going to be completely honest with you.  I know nothing about either team, but on a hunch, I'm going to reckon the  third tier athletes in the Southeast are better than the third tier athletes in the Midwest.  Therefore, Georgia Southern as well.  
New Orleans Bowl: Appalachian State vs. Middle Tennessee (+7) 
FWIW Middle Tennessee State is in Murfreesboro Tennessee which is in fact in the middle of the state, as well as a promising name for a bluegrass band coincidentally.  The boys from Boone though are pretty damn good, despite the fact their coach took a step up on the pantheon of Appalachia schools and will be taking over for Bobby Petrino.  This has potential to be a very good football game, and is probably the best of the "mid-major" bowl games.  Appalachian State -7 as well. Sneaky prop bet: Combined number of teeth in the crowd (+12) vs. Points scored.
Boca Raton Bowl: UAB vs. Northern Illinois (+2.5) 
I'll take the team from the south with numerous former SEC rejects, UAB -2.5 also
Frisco Bowl: Ohio vs. San Diego State (+3.5) 
Ohio averages around 20 ppg more than the Aztecs, while only allowing about 5 more points on defense.  Call me crazy, but I'll take the team that's averaged around 40 points a game this season. Gimme the 'cats against the spread too.
Gasparilla Bowl: Marshall vs. South Florida (+3) 
Chuckie Skrong went  7-5 this year after going 10-2 last year. Oh yea, they started 7-0 too. Yikes.  Wrong Way Charlie!  Granted, the back half of the Bull's schedule was a meaty motherfucker but still.  Bad optics and all of that.  This game is in fact in Tampa, which  I would say was a massive home field advantage but A) I don't really believe in Home Field advantage much, except of special circumstances and B) You have to have fans to illicit one of those circumstances.  I'm not sure the 5th wheel of Florida has fans that really care.  On top of that, as good of a name "Charlie Strong" is Marshall has a guy literally named "Doc Holliday" leading the charge.  Go watch Tombstone one time and tell me he ain't winning this game.  USF with the points though
Bahamas Bowl: Toledo vs. Florida International (+6) 
Look.  Toledo's just happy to be out of Ohio in the winter, and a tropical location at that!  When the cold weather here in Phoenix breaks up the unbearable desert summer, it feels like the escape scene in Shawshank.  I can only imagine it'll be like that for the Rocket men, just in reverse.  Toledo -6 too.
Idaho Potato Bowl: BYU vs. Western Michigan (+11) 
Gotta go with the Mormon's in Mormon country.  Similar to Notre Dame, they have the "religious following" which will lead to the sort of home field advantage listed under "extenuating circumstances".  Usually home field advantage is considered to be the loudness and comfortability of a home stadium.  Not here.  This home field advantage consists of all 8 siblings of each player for BYU being in the crowd and the team playing hard for them and the ghost of Joseph Smith.  I'm taking the Broncos with the points though.
Birmingham Bowl: Memphis vs. Wake Forest (+2.5) 
Memphis is a legitimately good team, that had NY6 bowl dreams deep into the season.  They didn't quite make it there because of those pesky fucks from UCF, but the good news is they still get a power-5 team to prove themselves.  Sure, it's not LSU, but you have to make the most of the circumstances thrown your way.  Beating Wake Forest soundly gives them a P5 win, which is way more than what Wake Forest has to play for.  Memphis -2.5, and take an alt line up to like, 7 if you can.
Armed Forces Bowl: Army vs. Houston (+5) 
This game will be interesting if for nothing else, the contrast in styles.  I watched Army control the game against OU this year, and with the absence of Ed Oliver I expect similar circumstances.  It's also got to deflate your sails a little bit as a player to see your team's best player sit because he knows how meaningless the game is.  Also, same type of home field advantage as BYU has here for the troops.  I'll take Houston +5 though
Dollar General Bowl: Buffalo vs. Troy (+3) 
If you want my take on this line you are in fact, degenerates.  
Hawaii Bowl: Hawaii vs. Louisiana Tech (+1.5) 
There will never be a time I DON'T pick this fucking guy.  Part time singer for Counting Crows, Part time gunslinger, your both ignorant and all-around boring if you don't want this kid to tear it up.  Hawaii -1.5
First Responder Bowl: Boston College vs. Boise State (-3.5) 
Here, we've gotten to the point where we're dipping our toes into the start of the games that the masses have legitimate interest in.  You've gotten to the point where you're watching games because you actually want to, not because your'e simply bored. Boston College is reeling from 3 straight losses, including one to an anemic and uninterested Florida State squad.  I'm taking the Bronco's here too -3.5
Quick Lane Bowl: Minnesota vs. Georgia Tech (-3.5) 
Minnesota has had the sort of schizophrenic season that befuddles a fan base.  Are they good? Are they bad? Does anyone even know? They hung with Ohio State for a while and pounded Wisconsin, yet they inexplicably got absolutely drilled by a shitty Maryland team and an even shittier Illinois team (S/o East Texas though, Lovie).  I do know P. J Fleck is a helluva coach, and an even better motivator so I see him getting the rodentia up for this.   Side Note: This also could be the last time we see the Triple Option at the power 5 Level…So, savor it, i guess? I don't know.
Gophers
Cheez-It Bowl: TCU vs. California (+2) 
The futility bowl.  Each year there's one game between two teams who shouldn't be good enough to be in bowls, but because everyone and their god damn mom has a bowl game these days you get matchups like this.   Dumb vs. Dumber.  Neither one of these teams are what I would call "Terrible", but they sure as shit aren't good at anything.  Cal somehow beat Washington, which should right there tell you the Huskies aren't a top 10 team but alas here we are.  TCU's best win was Iowa State? But they likely looked the most impressive in a loss against Ohio State….Sooooo, what to do, what to do.  I still haven't forgiven Cal for losing the game and me money against Arizona so I'm #TeamFrogs -2
Independence Bowl: Temple vs. Duke (+3) 
The independence bowl is low key a helluva fun time, as it's in Shreveport where you can gamble as long as you can stand the stench of the armpit of America.  I once was asleep in the back of a suburuban on I-20 headed to Florida, from Texas and woke up in Shreveport due to the God awful stench.  As bad as that is, I'm not sure it can stink worse than this match up. Duke +3
Pinstripe Bowl: Wisconsin vs. Miami (Fla.) (-3) 
Another shit show of a match up of mediocrity, and a rematch from last year.  And the (close enough) anniversary of an all time "Coaches Being Humans" moment, when Paul Chryst dropped the "Turnover Chain My Fucking Ass" line, like he was your uncle that went to Florida State.   I saw Miami get their shit shoved in by LSU, and while they may be faster than Wisconsin I don't see how that doesn't happen again.  A healthy does of Badger running down the throat, Wisconsin +3
Texas Bowl: Baylor vs. Vanderbilt (-6.5) 
Ok, I lied.  We weren't to the good shit yet.  This "Holier than though" vs. "Smarter than thou" match up between two insufferable fan bases will be a game I will SURELY not be watching.  I just had to look up which NBA game I will be watching that night, and it turns out Jazz/76'ers it is.  Baylor is decent, I'll take them.
Music City Bowl: Auburn vs. Purdue (+5) 
I don't think Stidham will be playing in this game, as well he shouldn't.  I do however, for selfish purposes want to see Rondale Moore go wild on an SEC defense just for the jokes.  An SEC Defense getting torn up by a lowley Big-10 School?? Surely couldn't be the same SEC I hear about all the time due to them playing REAL defense.  
I'm taking Purdue, because while they may not be as physically talented as Auburn is…They at least have a style they now they're going in…Which is more than the Tigers can say. 
Camping World Bowl: West Virginia vs. Syracuse (+7) 
This is two things: A) The first MUST WATCH game of bowl season and B) The game you bet the Over in no matter what it is (It's 74.5).  It marches up to 80? Take the over.  85? Don't be a pussy. And certainly don't be the guy saying "this isn't real football" as David Sills catches his 4th TD of the day.  Sit down, eat your dinner and enjoy the 2nd to last "Big-12 style" game of the year.  I promise it's much more fun if you simply embrace the chaos and learn to like it. Something to watch though, is Will Grier's status for the game.  He could very well skip this game, which would obviously swing the line…but as it stands now, if he plays, I like the 'Eers.
Alamo Bowl: Iowa State vs. Washington State (-6.5) 
This game while not of the "must watch" variety, is certainly in the "This will be interesting" variety for the "more than casual" type of College Football fans.  Matt Campbell's Iowa State squad has had success vs. spread teams and is certainly used to them being in the Big-12, so what Leach and the Cougars do offensively will not be foreign.  That being said, can the Cyclones score enough points to pull it out?  Two other things to watch for in this game. 
A) It'll be the last time we see this luscious thing on a college football field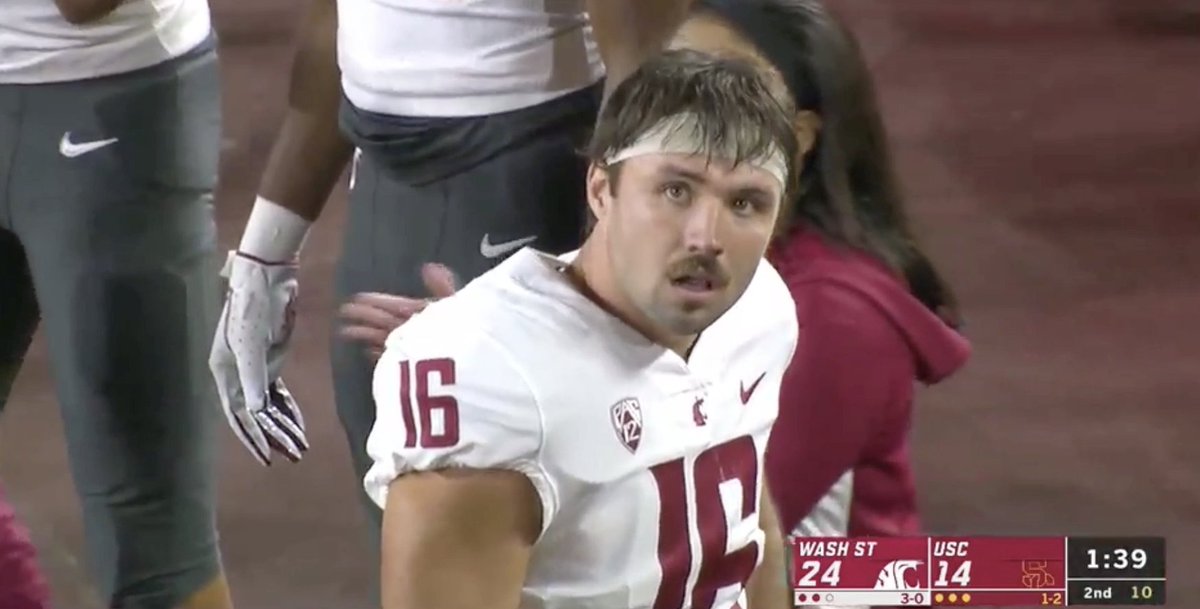 and-
B) this is one of two "strange fanbase juxtaposed with strange city" match ups to watch.  
By all accounts the people from Pullman love their Cougars, and love their liquor.  Everything else in life, well, besides hunting maybe, is simply superfluous.  Someone buy a large and gruff looking WSU fan a Margarita for me, put it on my tab.  Cyclones struggle to keep up in a game of pinball, but the defense locks down and they lose by 3.
Belk Bowl: South Carolina vs. Virginia (+6.5) 
SCAR certainly fell short of expectations to compete in the SEC East this year, but their showing against rival Clemson showed they're still a capable team.  I'm taking them -6.5 too
Arizona Bowl: Nevada vs. Arkansas State (-2) 
Uh...Well, I know Justice Hansen is the QB at Arkansas State.  And that's about it.  How do I know that? Besides the fact that my brain is abnormally large and full of knowledge, the kid is a transfer from Oklahoma where he was a blue chip recruit.  If you're good enough to play at Oklahoma, you're good enough to beat Nevada. Go Red Wolves
Military Bowl: Cincinnati vs. Virginia Tech (-6.5) 
This far into this exercise I am certain of at least one thing.  There are in fact too many bowl games.  Also, remember early in the season when we thought that Virginia Tech beating Florida State was a big deal? Reality hits you in the face sometimes in this football deal.  Go 'Cats
Redbox Bowl: Michigan State vs. Oregon (-1.5) 
In the "man this would have been great 5 years ago bowl" I like the Ducks.  Not to say they're world beaters, but at least they've looked great at points this season…which is really much more than Sparty can say.  This should be a merciful end to football in East Lansing, and all eyes can finally fixate on their basketball team (Top 10 by the way, the more you know) Oregon -1.5
Liberty Bowl: Missouri vs. Oklahoma State (+10) 
Eh, one of those games that doesn't really illicit any interest from me, but should be a good one.  Oklahoma state, when playing their best, looks like a top-10 team.  Unfortunately for them, that's happened only about 3 times all year.  Will it happen in the bowl game? I wouldn't count on it.  I do know they can score on just about anybody if they're running smoothly, so I see them keeping it within 10. I just can't put them winning.
Holiday Bowl: Northwestern vs. Utah (-7.5) 
Utah has some sort of wicked spell on me since that season 2 or 3 years ago, when Devantae Booker had them off to a hot start.  Ever since then I've considered them some sort of near juggernaut team on a level like Washington.  That's proven me wrong time and time again, but I can't NOT take them here. My brain just can't do it.  Especially not against a team spokesperson-ed by Darren Rovell and Mike Greenberg.  Nope.  Can't do it.  I do like them -7.5 though.
TaxSlayer Bowl: Texas A&M vs. NC State (+4.5) 
Compelling, I guess, in the sense that I think both of these teams are decent enough to play both a close game of football but also a good game of football.  Other than that? I'm not real sure what I else to say.  Tune into see the Freak that is Ken(drick)ny Rogers (S/o East Texas), who is starting to remind me of Mike Evans.  Very large and freakish athletes who appear out of nowhere and become legends. Aggies eating the points as well.
Sun Bowl: Pittsburgh vs. Stanford (-6.5) 
No comment except that it seems these two teams faded into oblivion this year.  Stanford
Outback Bowl: Mississippi State vs. Iowa (+5) 
Both teams struggled to score against teams with good defenses this year, but Mississippi State has some flat out MONSTERS on their D-Line who I expect to feast against those slow corn-fed behemoths from the plains.  I also can't help that with another month of bowl practices, the MSU offense HAS to look more consistent.   Coach Moorehead is no shmuck. Iowa +5
Citrus Bowl: Kentucky vs. Penn State (-4) 
The Fraud Bowl.  Two teams who convinced the landscape they were good at this sport, when in fact, that was definitively not true.  People are slobbing all over Josh Allen from Kentucky, and sure, he's a helluva player.  As is Bennie Snell.  But you know who isn't? The revolving door behind center.  And because of that, I'm forced to take the Nittany Lions because I don't think Kentucky can score enough points. PSU -4
Peach Bowl: Florida vs. Michigan (-6)
 I'll be the first to raise my hand up and admit I was wrong about Michigan–Partly.  I thought they would beat Ohio State, and personally I thought they could challenge Alabama.  Was I wrong about the first one: Absolutely.  Was I wrong about the second on: It's likely.  I think Harbaugh's squad sees this as a chance to show the country that they aren't as shitty they looked in the biggest rivalry game of the year.  What I'm not wrong about, is that Michigan looked INCREDIBLE for most of the year when they got to play teams that mirror Florida.  Teams without a dynamic offense.  The stats of the Michigan team that portrayed that they were #1 in just about every metric were proven incorrect over the course of one game, but there is still a LOT of data that shows they are in fact incredible when they play teams that aren't necessarily "explosive" with the ball in their possession.  Because of that, I'm taking Michigan -6
Fiesta Bowl: LSU vs. Central Florida (+8) 
Part 2 of my series: Fans totally out of their element.  I NEED footage of the cajuns taking on Old Town Scottsdale.  Matter of fact, I need a camera crew following some 40 year old's from Alexandria as they step into Bottled Blonde and the douche loop of clubs.  
In terms of football though, it's a real shame Mckenzie Milton got his leg ripped off.  Seriously.  It would have been a pleasure to the world of college football to see a bunch of undefeated underdogs going up against LSU's defense.  Without Milton though, I don't see how UCF can pull this out.  Even with Milton manning the helm, this team isn't near as good as the one from last year, I'm leaning UCF with the points though.
Rose Bowl: Ohio State vs. Washington (+5.5) 
Bet the farm on the Buckeyes.  That's all the analysis you need.  On a serious note though, there aren't two teams in the country right now playing better than the Buckeyes.   If the comittee really wanted the four best teams RIGHT NOW in the playoffs,  it would be hard to convince me the Buckeyes don't belong over Notre Dame.  Washington has been "blah" all season and limped into this bowl via shitty conference syndrome.  Buckeyes up to -10.  This is a guaranteed shit-kicking.
Sugar Bowl: Georgia vs. Texas (+11) 
Texas: Good against teams like Oklahoma with limited defense potential.  They lack a lot of big play or quick scoring potential, but when they can control the ball and routinely get third down conversions because of their ability to enforce their will on a D-Line; Texas is a good team. 
Unfortunately for Tom Herman and Cinderella Hagar, they're about to get molly-whopped like a step-child because Georgia is not that type of team.  I would have loved to see West Virginia in this spot simply because of the contrast in styles.  That would at least be one interesting aspect.  As it played out though, we have to see this instead. Dawgs all day.
Orange Bowl: Alabama vs. Oklahoma (+14) 
Ahhh, a post for a different day.
Cotton Bowl: Clemson vs. Notre Dame (+10.5)   
See Above