Later this evening, the "committee" will release their initial playoff rankings of the year of the lord, 2018.  Some order combination of Alabama, Clemson, Notre Dame and likely LSU, although Michigan has somewhat of a case.  By and large this is a charade for the sole purposes of getting people to argue and tune into College Football Live and the like.  Watching an Athletic Director (Rob Mullens, Oregon) with no  proper training for being in front of a camera stumble over the committees logic should be fun as well though.
I use the word "charade" due to the fact that these rankings are completely meaningless. The criteria of the committee ranking each team on a week-to-week basis should garner a shrug regarding these initial spots.  Also, two of the likely top 4 teams play each other THIS week, which will undoubtedly lead to a mix-up in next weeks rankings.  Something to watch for though outside of the top four is how the committee ranks the one-loss teams.  Michigan (assuming LSU is in) and Oklahoma both are in great position to swoop in on a spot should one of the top 4 lose and Georgia, while they have a near impossible path, still technically controls their own destiny.  Where these teams line up is also meaningless at this point, but it will at least show us where the committees heads are at.
A word of advice: Don't consume hours and hours of content arguing these initial rankings.   It's a senseless waste of your time as 1: the aforementioned fact that they don't matter and 2: Your web browser is already on the URL with the best takes on the World Wide Web.
Now let's prep for a wild Saturday.
1-Will Tua Tag*** Win the Heisman
"But FreakyT, there's like 4 games after this one! How can ONE game decide if he wins the award or not??"
Well, because Alabama plays a dog shit schedule.
The SEC is down as a whole, and the once mighty SEC West is riddled with mediocrity.  Tua is lighting the world on fire with his efficiency numbers, and as every single insufferable Alabama fan will have you know, HE HASN'T PLAYED IN A FOURTH QUARTER YET THIS YEAR".
Well, guess what insufferable Alabama fans??
HE HASN'T PLAYED A RANKED TEAM YET THIS YEAR
(Ok, Texas A&M is ranked 25, but the point still stands)
Defensively speaking, the best defense in yards/play he has faced ranks a cool #96 in the nation (Arkansas)
While everyone is slurpin' the Flyin' Hawaiian, I would like to present you my dear reader, a few stats.  I do hate when facts interject themselves into an argument but I feel it necessary to  show you a few.
I would be remiss to point out that Kyler has a higher completion percentage, 7 more TD's, and more yards but none of that is relevant at this very moment.
Tua has been crowned entirely too early after bursting onto the scene is last years National Championship.  Is it fair? Who am I to say.  He plays for a juggernaut on both sides of the ball and has the luxury of being able to have a "bad" game against the likes of Missouri and still win by 30.  Kyler on the other hand, has had to play at an unbelievable level simply to keep his Oklahoma team in certain games, i.e Iowa State and Texas.
All of this is largely irrelevant due to the nature that in College Football these things are often times settled on the field of play.  The Alabama Crimson Tide travels to Baton Rouge for a showdown of top-5 teams on Saturday.  Despite how Tua plays, I feel confident in saying that if Alabama wins this one, he will win the Heisman.  If he has a pedestrian game I feel confident the Tide still wins.  And because it's a "rivalry" game, he will get a pass.  Hell, even if he plays bad, I still see LSU having a hard time beating this team as their  lack of scoring ability will bite them in the ass.
All of that being said, this won't be easy for young Tua for a multitude of reasons.  It's a night game in Baton Rouge for one, and while I hate the "home field advantage" narrative, this is one place where it absolutely means something.   This will be the most hostile environment this young Alabama team has ever been to, and while this offense has had no trouble scoring at will thus far, I expect communication to be a LARGE issue.
Which brings me to my next point, in that LSU actually has a defense with the capability of playing defense.  This will be a first for Alabama this year.  This defense is also qualifiable NASTY on the FreakyT index and is littered NFL players across the board, several of which will be first rounders.  If any team on God's green earth is going to be able to slow down the Tide, it's going to be the one with  Greeeeeeeeedy Williams, Grant Delpit, Devin White and Co. on it.  All three are top 3 in the country at their respective position.  If Tua can shred these guys, I'll bow down and stop the argument for Kyler.
HOWEVER.
*Whisper* If he has a pedestrian game of decent standards, he'll still win it.
In fact, the only way I see him losing his grip on the trophy is if he turns in an absolute dud with several turnovers leading to an Alabama loss.  Nothing I have seen from him so far shows that as capable of happening but then again, if this were to ever happen, the variables are in place for this Saturday to be the time.
One more thing.  I know PETA likes to throw a bitch-fit about every God damn thing these days, so LSU is limited in what they do with their little pet tiger but damnit…for this game they should be able to place Mike and his cage in front of the opposing teams tunnel like the days of old.  I don't maybe a LIVE FUCKING TIGER could be the one thing to rattle Tua.
My Prediction: Alabama 31-LSU 17
Alabama's defense has been susceptible to QB runs this season, and while no one would mistake Joe Burrow with Johnny Manziel, the kid has a decent set of wheels which will set up some LSU points.  Tua will look fallible this game and I say he commits a turnover, but unfortunately LSU doesn't have the offense to challenge this Alabama team.
2-How Good is this Michigan Defense?
Harbaugh's Wolverines defense may be the only unit in the same stratosphere as the LSU and Alabama units, and statistically speaking they are in fact better.  Take a look at these stats. They're breath taking.
If you aren't familiar with the context of what you are looking at, let me explain.  The Michigan defense allows on average FORTY less yards/game than the #2 ranked team.  Context: It's not until you get to  #12 for a forty yard/game differential from the #2 team.
Also, for the stat nerds telling me yards/play is a better indicator.
Michigan gives up on average almost a half yard less/play than the #2 ranked team in that stat. Again, context: it's not until the #10 team to get to the .4 differential.  What that means is that every "good" defensive unit is kinda jumbled up around a plateau.  Michigan has dominantly broken through said plateau.  That being said those numbers come with a few qualifiers of the same kind as Tua's above.
Michigan's defense while good, is a little inflated on the surface due to the fact they've yet to play a dynamic offense.  They impressed me by shutting down Wisconsin's formidable rushing offense, and while I respect that, Wisconsin's offense for lack of a better term is one-dimensional.   Penn State despite their short-comings of late cannot be called anything but formidable on the offensive side of the ball.  They come in ranked 11th in Points/ game (41.0) and 17th in yards/play (6.6).  They also have Trace McSorley, who will be the first real threat at QB Michigan has played.  Reminder: Brian Wimbush was still playing for Notre Dame when that game occurred.
There's no doubting that Jim Harbaugh has a monster in his defensive unit.  The only thing to question is how badass of a monster it is.  I'm high on Michigan, but this game will determine just how high I am.  If they come in and thrash this Penn State offense, a certain team in Tuscaloosa will be put on notice.
My Prediction:  My head is saying to go with Penn State, but I literally have no idea.  Wouldn't shock me either way.  Ok, I'll stop being a pussy and say
Michigan 28 – Penn State 23.
News Flash: This defense is legit.
3- Who's Gets the Right to Get Curb Stomped By Alabama in Atlanta?
Simple enough question.  Georgia plays Kentucky…The winner goes to Atlanta to play Alabama.  Neither team has a flying fuckin' chance at beating the Crimson Tide, but they get to hang a little banner up in their field house saying they went.  Ho Hum.  I will not be watching this game as my roommate just mowed the lawn, and I'd rather post up and watch it grow back until the OU and Alabama games start.  Don't really care about this game to be honest as it's merely a formality.
My Prediction: In a triple overtime "thriller", Georgia wins 23-21.
Is that score even possible? I couldn't care less and to be honest with you typing that paragraph sickened me.
-Onto better things now-
4-Is Gardner Minchew The Second a Guy Who Should Be Getting a Heisman Invite?
The simple answer to this question is a resounding "yes", due to the fact that he's my favorite player in college football in the "I'd hang out with that dude" rankings.  Largely because of this absolute beaut of a fur-tipillar he rocks on his upper lip.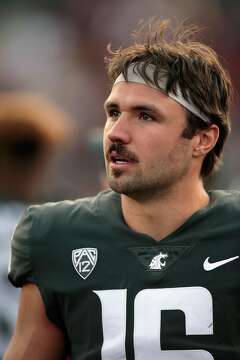 Me, Gardner, a 6-pack of IPA's, a banjo and a porch.  Just some dudes doing some hippie shit.
In reality though, Minchew 2 leads the country in yards (shocker), and is top 5 in completion % and TD's.  Normally, these numbers wouldn't cause a second glance because they come from a Mike Leach offense, but any time you have numbers like that and only 1 loss on the resume you should garner some Heisman attention.
This is by and large a two horse race with a firm leader, but they can't just invite Tua and Kyler to New York can they?  After what Purdue did to Ohio State, Dwayne Haskins has a shit-ton of ground to make up while Washington State quietly looks like the Pac-12 favorite.  It's highly unlikely the Cougs make a legit playoff bid, but they're fun to watch and led by a guy who looks like you should be worried about your wife taking a ski-lesson from.
There's a few spots left on the band wagon.  Submit an application in the comments.
Their opponent, Cal, surprisingly has a good pass defense at least on paper, ranking 8th in yards/game allowed.  Cal's opponents average 165.5 yards through the air… *ahem* that'll go up after this one.
Mister Minchew deserves to be in New York for a variety of reasons; none more important than the fact he doesn't mind looking like he's about to chug a PBR at an Apre Ski bar while putting 450 and 5 TD's on your dome.
Glorious.
5-The Oklahoma Defense…That Thing Gotta Hemi?
You're Bout ta Find Out.
Yes, the Sooners Defense has looked GREAT the past two weeks.  Have they played the two worst offenses in the conference though? There's an argument to be made that the answer to that is also a resounding "yes".
For Oklahoma to make a strong bid for the CFP they need to show they have something, and I mean anything, resembling competency on the defensive side of the ball.  The players and recruiting accolades are there, and players have said they feel more comfortable in Ruffin McNeill's system but pardon me if I'm not drinkin' the kool-aid just yet.  I need to see something against a good offense, and as luck would have it, that will happen Saturday in a spooky town called Lubbock.
Among the worst places to play as an away team as their is in College Football, the fact that this is a night game exacerbates those reasons even more.  A friend of mine who went to Tech for a short-spell once told me "You're either at the bar, or at the library.  Not much else to do in Lubbock".   Well,  Saturdays the town of Lubbock might as well be one giant bar, as they in fact know how to tailgate, and know how to do it well.  Drunk, Vulgar, Obnoxious, Tortilla throwing fans await the Sooners in what could easily be called a trap-game.  I'm not worried about anything on the offensive side of the ball despite the fact Tech has a decent-to-solid defense.  It's the whole "Top-10 in literally every team offense statistic" that worries me.  Along with Oklahoma's Kryptonite: Big  Receivers.
Obligatory Reminder of this game:
Good News for the Sooners, Pat Mahomes is in the NFL.  Bad News for the Sooners, that years defensive personnel was better than this years.
The Sooners just need to look competent.  I still expect  Tech to put up 30+, but if the Sooners keep them under their season average of 42 I see that as a success.  A couple of turnovers would go a loooooong way in easing Sooner fans worries as well.
My Prediction: Sooners 51 – Red Raiders 34
The Sooners offense should be in full-on "Get Kyler the Heisman" mode, so points should be flowing.  Alan Bowman is faaaaaaar from Pat Mahomes, so while he throws a few TD's, they come with  a turnover or two.  The Sooners can rest  easy mid-way through the fourth as they avoid a spooky scare in Lubbock once more.
See ya.