Another day, another dolla', another satisfied customer.  Week 7 has come and gone and our ole' friend Chaos reared his pretty little head for the first time all season.  He's a fickle beast, that chaos, but when he arrives there isn't anything more entertaining on the planet than lettin' that little bastard go to work.  Teams like Michigan and Oklahoma got a shot in the arm from the chaos, with Oklahoma getting the ever elusive W on a bye week.  Week 7 didn't bring FULL on chaos, but enough poked out to make interesting shit happen and to remind us that NO ONE is safe in a violent game played by teenagers.  Here's what we know now that we didn't before.
1) Georgia Ain't Beatin' Alabama…Therefore…They Ain't Makin' the Playoff.
Realistically I figured (knew) that Georgia wasn't going to be able to fuck with Alabama, and this week cemented that fact.  Georgia and their basic ass offense are good at one thing and one thing only.  In the Biz we call that being "One-Dimensional".  That ain't flyin' in today's college football.
Unfortunately for Kirby Smart, the days where you can throw a bunch of athletes on the field and call it a day simply because your players are bigger and badder are over.  He won an SEC championship with that strategy last year but ultimately lost in the National Championship because of lack of firepower.
That ain't what happened here.  LSU just went into a dog fight with some more badass dawgs and beat the piss out of that little frenchie Uga.  The game in fact literally looked like some rabid rottweilers tearin' apart that asthmatic piece of shit.
Georgia got outplayed by a dominant and obviously motivated LSU squad to the point that an anemic LSU offense put up 17 on the dawgs in the fourth.  I'm going to let you in on a little secret.  If a team like LSU throws up 3 scores in the fourth quarter that means one thing and one thing only: They've battered you so much during the first 3 quarters that you've been whipped into submission…A real Ramsey and Reek moment there in Death Valley.
In my eyes Georgia could still have very much made the playoff if they went undefeated up to the SEC conference championship and then lost to Alabama.  That being said…
Two things here.
They are still going to lose to Alabama meaning they will have (2) losses, and
There's no guarantee they don't lose along the way.
Florida for example has some joose at the moment, they're a worthy foe after what I saw.
Going forward now though and speaking of LSU….
2) LSU Probably Won't Beat Alabama, But They're Sure as Shit Gonna Try.
That defense…Shooo-weee.  They're something else.  Led by possible top-10 picks Greedy Williams and Devin White they are freakishly good.  On the flip side, Tua Tag*** looked fallible for the first time this season against an average Missouri team (his stats meanwhile looked far from average, that's just how he rolls) and a knee injury lingers.  This is setting up as your classic "unstoppable force vs. immovable object" scenario, and with Kyler Murray and Dwayne Haskins not too far behind him in the heisman race this could be the game to either seal it or give up some room in the rear view.  I know two things about this LSU team,
They aren't going to quit whatsoever, and they'll make you want to. -And-
This will be the biggest LSU game in at least 5 years; to say Coach O. will have them ready to play is an understatement.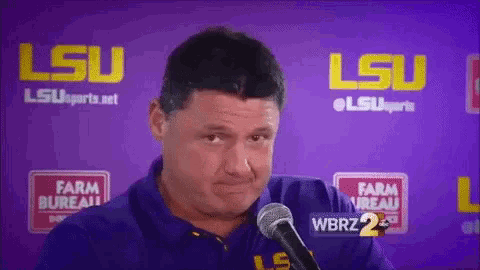 I'll write more about this in a few weeks when it's closer to actual game time, but despite Georgia's offensive shortcomings LSU put the entire conference on notice with a HUGE win.
3) Speaking of Putting People on Notice…Michigan Flexed on the Big10 and the Entire Nation on Saturday.
Just sheer and utter domination similar to the aforementioned LSU/UGA game. Prior to this game Wisconsin averaged 287 yards/game on the ground.  They got 183 on Saturday.  Alex Hornibrook, a serviceable quarterback was 7/20 for 100 yards and 2 interceptions.  As my readers know, I've been higher than most on this Michigan team and finally the national pundits are starting to recognize.  They didn't just beat Wisconsin, they legitimately did what most people thought was impossible.  For the past 10 years, there has been very few constants in the college football world.  One of those though, is that Wisconsin will run the ball down your throat.  It doesn't matter who you are because they don't discriminate.  Those big ass corn fed fuckers in Packerland are gonna punch you and then guess what.  An NFL back is going to run through a hole the size of a flatbed.  Sure, you may win the game but  you're going to get gashed.
Not on Saturday.  Jim Harbaugh and the all-world Michigan defense did what hardly anyone had done before and that was shut down Jonathan Taylor (to an extent) early, forcing Alex Hornibrook to win the game.  That, as it turns out is not a good strategy for success for Wisconsin.
It's time we start mentioning Michigan in the same breath as Ohio State, Clemson, Notre Dame, Oklahoma, and LSU as teams that might be able to knock the big dog off the throne.
4) If You're Undefeated and Have Iowa State on the Schedule in Ames, Pray For Rain.
I don't know how the Cyclones do this shit regularly, but Ames Iowa has become the Pittsburgh of the Big-12.  You go in there and play a team you are better and more talented than, and then spooky shit happens as you get punched in the mouth and the next thing you know you're flying back home with a "1" in the Loss column.
It's baffling.
I can't imagine that home field advantage being anything great, and I know for a fact players aren't sneaking out to go hit the night life and party…because once again, Ames Iowa.  Yet, Oklahoma State in 2011 had their National Championship dreams killed there, Oklahoma almost did last year, and it seems certain that Dana Holgerson's West Virginia squad did on Saturday.
Look, it's a conference game so there aren't a whole lot of options to get out of playing there, but you have to try.  Hire a shaman or something to do a rain dance, salt the field the week of the game, show up with no uniforms…it doesn't matter, JUST DON'T PLAY IN AMES IF YOU ARE UNDEFEATED!
In all seriousness we also learned, or I should say reinforced, the fact that Matt Campbell is a damn good coach (Maryland next year?) and Dana Holgerson still seems to lose his head randomly at times.  This is a loss WVU could come back from if things shake out right, but that offense on the field Saturday looked anything but championship caliber.  Heisman candidate, known juicer, and less-famous brother of Nash, Will Grier put up a solid QBR of 16.6 (on a scale of 1-100…Yikes.  NOT MY HEISMAN WINNER) and a measly 100 yards passing.  Shoutout Matt Campbell on that one, he is the millenial version of Chris Petersen.  Hopefully he gets a job soon in a city where the tallest building isn't a silo.
5) Texas Tech(?) Is a Well Balanced Team.
Well.  Kind of.
Their TEAM is balanced in the sense that they have a functioning unit of 11 players that play well when the offense is not on the field.  Led by Dakota Allen of LastChanceU fame, the Red Raider D held the frogs to a mere 14 points in Fort Worth.  Sure, you can say the TCU offense is dreadful.  Totally fair and accurate point.  However, this is the first time the Red Raiders have held a Big-12 team to 14 points or fewer since the day Geno Smith's Heisman dreams died in 2012.  It should also be pointed out that that game was played in borderline tornado conditions.  So big shoutout to the Red Raider D.  Poor Kliffy GQ finally gets a defense right as Patrick Maholmes starts to make waves in the NFL.  I struggle to imagine what this Texas Tech team would look like if a quality quarterback was under center.  Jett Duffey certainly played well and I don't want to take anything away from his gutsy performance, but if this defense continues to play well and either Alan Bowman returns or Duffey becomes a more consistent passer teams like Oklahoma and Texas should circle this date with a extra-fat sharpie.