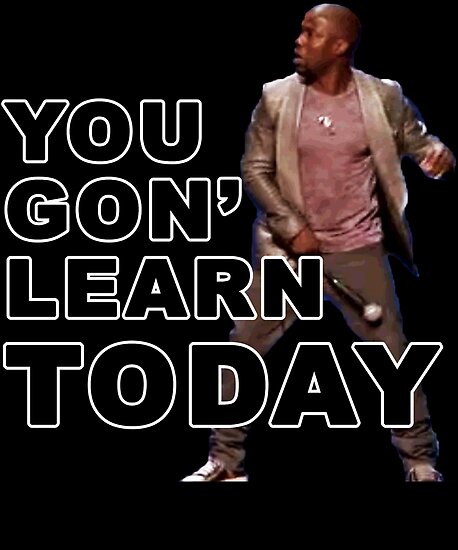 Wow, wow wow.  After this week the seasons technically half-way over.  They grow up so fast.
As we march on toward the playoffs the landscape for the majority of conferences is still wide open.  Clemson and maybe Ohio State look like the only teams that SHOULD win their conference.  The qualifier on the Buckeyes is that while they are likely to be favored  through the season, they still have some tough games left.  Clemson on the other hand should breeze through; but with a true freshmen holding the reins that will never be certain.  In G5 land, it looks like UCF is the team to beat but you never know, teams like Boise State, Houston, USF and San Diego State sit in the wings should UCF falter.
Suffice it to say, the season may be almost half way over but a season of college football is like any great novel.  The early sections sets the stage for all of the action in the latter half.  Things are about to get joosy in the next month and a half, so buckle up.  Here's what we'll know after Saturday.
1) IS TEXAS BACK (Vol. VII)???/Is this Oklahoma Team Legit?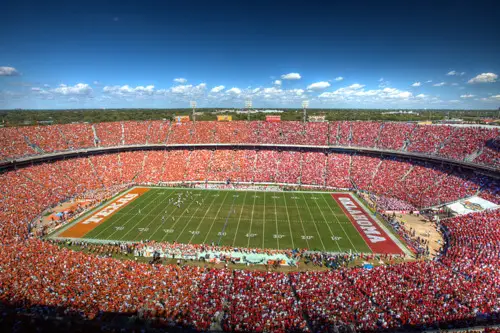 On Saturday at approximately 11 am, the most electric rivalry in all of college football will kickoff for the 113th time.  The story this year is the same one in recent years as a ranked Oklahoma team with a heisman candidate under center comes to Dallas to challenge an under-performing Texas team with a solid defense and offensive struggles.  The difference this year though, is that this Texas team is hot.  After an inexplicable early loss to Maryland, Vodka Tom and the Longhorns have reeled off a few impressive wins against the likes of USC and TCU.  Sure, it's TBD how good those teams are and sure, the Longhorns didn't play that well last week but for the past 5 years or so the Longhorns have outplayed their record in this game anyways.   Despite the cliche, you really do have to throw the records out the window for this game.  Hell, three years ago a fella named Baker Mayfield walked into the Cotton Bowl with the rest of the 10th ranked Sooners and laid an egg.  Texas dominated the trenches, made Baker's life hell for 3 hours and came out with a win.  That Texas team? They finished 5-7.  That Oklahoma team? They went onto win the next 7 and snuck into the CFP.   Weird things tend to happen in the shadow of Big Tex.
Throughout the season UT has shown flashes of potential on offense while maintaining a a high quality defense.  They are talented albeit young in the secondary, which should make for an interesting matchup considering Oklahoma's offensive scheme under Lincoln Riley.  This game will go one of two ways.  If UT can control the ball and limit big plays from the OU offense, they have a good shot to pull this one out.  If OU trots it's  offense out there and Texas can't contain Kyler or OU's All-World receiving core then we'll see something like this.
In the past ten years or so these games have either been extremely close or an absolute beating, and I think this year will be no different.  Just like the split of color on the 50 yard line, I had a former Sooner player tell me the mental aspect at the commencement of this game hangs on an edge.  It's a razors edge that two teams are battling to control, and once one team gets it there is no regaining it.  This is the game every single player on both team dreamt of playing in since committing.  And the ones that have been there before? Well it's the game they've dreamt of playing in again since this time last year.
This is going to be Oklahoma's offenses first real test of the year as well.  On paper, as well as against paper teams, they have looked unstoppable.  Army slowed them down but the Sooners still seemingly scored at will when Kyler and Co. had possession.  The Longhorn defense is no joke, so if the Sooners throw up video game numbers on Saturday then it bodes extremely well for SoonerNation going forward.  If not? Lincoln Riley will have to figure out how to call plays to win a close game; a task he's had mixed success with calling plays for the Sooners.  I suspect the Sooner's will miss All-World Runningback Rodney Anderson this game as I expect Texas to sellout to stop the pass.  The rest of the Sooners stable is by all means formidable, but none of them are the one cut and GO runningback that Rodney Anderson was.
My Prediction:
If the Longhorn D-Line can get pressure on Kyler without bringing a blitz, Sooner fans should start shitting their pants.  OU has had O-line struggles this year and are rotating new Center Creed Humphrey in for just his 2nd career start.  I expect the Sooners to have a tough day running the ball, but I think their receivers and Kyler eventually prove too much for the Longhorns.  This matchup is dubbed up to be the Sooners offense vs. the UT defense for the aforementioned reasons, but the Sooners D shouldn't be overlooked.  If they can force a turnover or two this game will get out of hand.  If they can't, Texas should be able to play the time-of-possession game very well which will keep the ball out of Kyler Murray's hands.
I expect middling results on all of these things, as no team or singular unit dominates.  I think the Sooner defense steps up in a big spot and limits Ehlinger and Co.
Sooners 35, Longhorns 26
Sawce Gawd of the Day.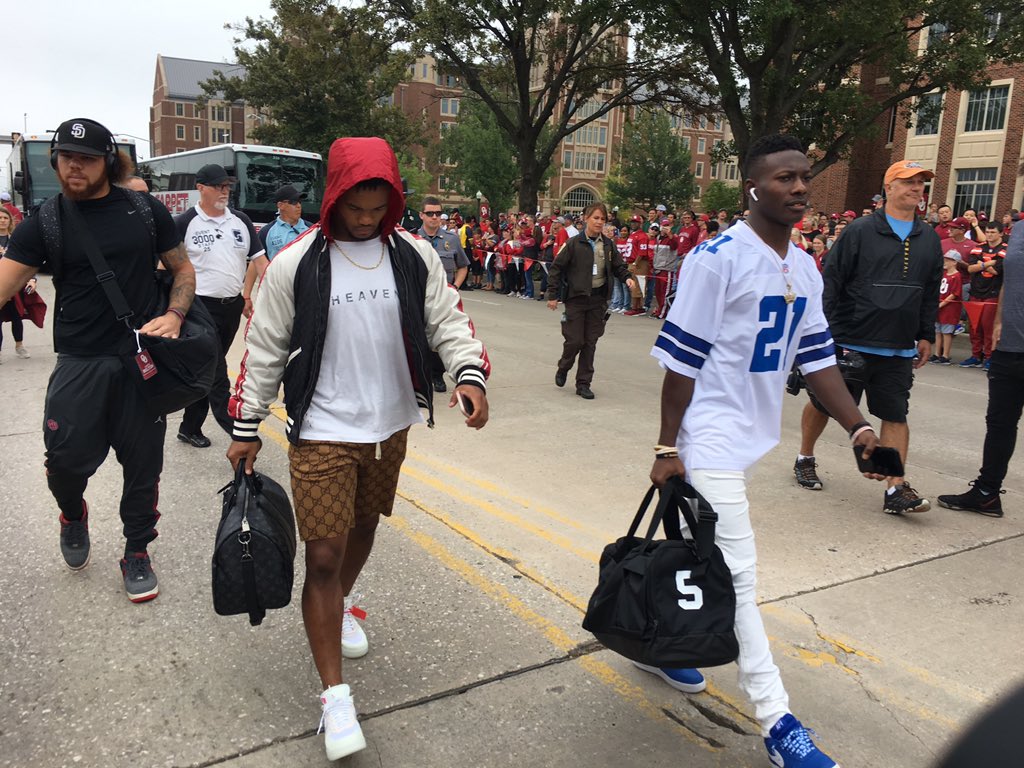 2) What Happens When an Immovable Object Meets an Immovable Object? LSU vs. Florida.
Sure, Sure, Sure, Joey Burrow swung his dick all across the Ole Miss defense last week and it looked like the LSU Tigers had at least a semblance of competency under center.  I'm not buying his stock just yet though because after all, Helen Keller could make a 1 armed man look like an absolute force on the gridiron as well.
Do I think LSU's offense is looking better? Absolutely. 100%
Do I trust LSU's offense in a shootout? Absolutely not.  0%
Luckily for them, that isn't going to happen.  Don't let the 35.4 points/game fool you. Against the two teams on their schedule that were expected to challenge them, Dan Mullen's Gators have averaged 14.5 points per game.  This LSU team will be the best defense they've faced so I'm not expecting much out of the Gators on Saturday when they have the ball.  That being said, the Gators defense should play well as this game will be athlete vs. athlete when LSU has the ball due to the lack of a dynamic scheme in the LSU offensive playcalling.
My Prediction:
A quick game due to lack of throwing and the Gators getting shutdown.  Florida is ranked for some odd reason* so some expect this to be a good game.  It'll remain close due to LSU's lack of ability to run away with the score , but I don't see the Tigers worrying about losing the game at any point during the contest.
*It's the conference they play in
LSU 24, UF 18
3) Do We Have to Keep this Charade of Colorado Being Good Up for Another Week?
Look.  Boulder is a beautiful town.  It's got phenomenal beer and Pearl Street is pretty cool too I guess. Ralphie the Bison is a cool ass mascot; you never know if he's going to be adorable and docile or if he'll try to stampede everyone in the lower level of the stadium.  I respect that.
I say all that to preface the fact that Colorado isn't a great football team.  They aren't bad, and I would even go so far as to say they're in the "decent" to "pretty good" range but– they aren't winning the Pac-12.  They aren't even going to the Pac-12 Championship.  They come into this game undefeated against the Middle School teams the likes of Colorado State, Nebraska, the school down the street from the cabin Walter White hid out in for a while, and UCLA.
Herm Edwards hasn't got ASU into a conference contender just yet, but his team has beaten a top-25 Michigan State team so far this year.  The Sun Devils have more than enough joose to knock off the Buffalo.  Will they? I think they will.  If the Buffalo don't falter this week though it's only a matter of time before they do. But hell, if their season goes up in smoke…I don't suspect they'll mind too much.
My Prediction:
I think ASU pulls it out.  Sneaky other thing to look for in this game is the battle of monster Wide Receivers with badass names.  Shoutout Laviska Shenault Jr. and N'Keale Harry from CU and ASU respectively.  Both are getting some heavy mentions for the First round in the NFL draft.  N'Keale reminds me of Corey Davis from what I've seen.  I've yet to study Shenault closely as I still haven't had confirmation that "Laviska Shenault Jr." is actually a dudes name walking on this planet.
ASU 28, CU 27
4) Just How Bad is Florida State:
Another big rivalry game on Saturday will be when the Seminoles take on the Hurricane of Miami.  After the thrashing Virginia Tech laid on 'em, the narrow escape from Samford and the subsequent thrashing from Syracuse the Seminoles were written off and Willie Taggart had a price on his head.  Since then though,  they've shown a new life on offense as QB Deondre Francois has started to play pretty damn well.  Fresh of a 4 TD performance against Louisville, this looks like a completely different FSU team than the early version we witnessed.
You can write off the wins against NIU and Louisville as beating up on easy teams and I wouldn't disagree.  I would remind you though, that both of those teams are better than Samford who once again, they looked like shit against.  Louisville as well is at least SOMEWHERE in the same stratosphere as Syracuse, so  it isn't fair to say the Seminoles haven't improved.  A team like Florida State is compelling in the same sense Texas is to me.  Sure, both teams looked Bad with a capital B early in the season.  Since then though they have looked completely different.  This difference is VERY different from a team that slowly builds their way up to prominence and scratches out a bowl win like, say, Boise State from last year.
Florida State currently has the athletes to compete in the ACC which is the difference.  The offensive prowess they've shown the last two weeks could be due to the fact they've played 2 bad teams but I already noted the teams they played early were lacking talent as well.  It could simply be the fact that things are now "clicking" as they say.  Maybe it took a while, and this the Seminoles of the past two weeks are the team that we though they were in the preseason.  Who knows at this point in time.
What we do know is that by Saturday evening we will know the answer.  This should be an intriguing game solely for the fact that Miami's offense isn't good enough to be able to run away with this game.  That  means the Seminoles will have numerous chances to make their mark on the scoreboard.
Will they?
My Prediction:
The line is -13.5, and I'm all Seminoles on that one.
Matter  of fact, I'm taking the Seminoles to  win.  Willie Taggart's on the hot-seat 5 games into his tenure as coach, which is as impressive of  feat I've seen from a new coach in quite some time.  I think the Florida State talent will be inspired to play for their coach, and go out and snatch the dub.  I just hope they don't eat it  as FSU Qb's have the propensity of doing.
5) Is Ian Book the Real Touchdown Jesus?
Simmer down catholics, its a joke.  I've heard you can do whatever you want as long as it's under the guise of comedy, and that includes blasphemy.  Anyhow, I harped on this on the what we learned last week blog but Notre Dame is legit.  The team looks great and they are performing at a very high level.  Since being named the starter Ian Book has emerged as a guy who would be a heisman candidate had he started from Day 1.  My concern with that though is that we've seen players get hot for a while only to come back down to earth at a later date.  There isn't a better situation for that to  happen than  Saturday night in Blacksburg once Enter Sandman gets played.  If Book and Notre Dame survive this one, it's fair to call Book Touchdown Jesus.
But be ready, 'cause shit gonna be real.
See Ya'll Later.