1) An Agent of Chaos has arrived, and he goes by the name Brian Kelly.
Every year there is a G5 school with a good chance of going undefeated that brings up this popular discussion point.  What exactly has to happen for a team like that to crash the CFP.  This is a favorite talking point of many because for it to happen absolute chaos must ensue.  And generally College Football is more fun when chaos reigns.  Last year (and this year) it was UCF, before that it was Houston.  Boise State is usually mentioned in that sentence.  Before the playoff and their inductance into the Big-12, TCU was brought up as that school. Fair or not, none of these teams have ever made a dent in the system as the necessary chaos has never fully happened.
Be prepared.
Things just might get chaotic because there is a non-P5 school making waves, which of course is Notre Dame.  I was bearish on the Irish early in the season because I didn't think their offense could last in today's era of football.  I looked at their schedule, which is tough mind you, and saw a few teams that could outgun them.
Then along came Ian Book who flipped the Irish team into another dimension.  With Book as the starter the Irish average around 100 yards/game more through the air as well as 200 yards overall.  Hell, the kid threw for 278 and 4 TD's against a Stanford team with a stalwart of a defense and a mastery of ball control and possession.  They didn't  just "beat" the Cardinal, they dogged the shit out of them in the 4th quarter to make a statement.
I am prepared to make the following statement for the first time since 2012.
NOTRE DAME IS  A DAMN GOOD FOOTBALL TEAM.
GoFundMe.com/TherapistBills if you're so inclined.
All of that being said, there are two things to note about the Irish going forward.
Ian Book is still a relatively young QB, and young QB's tend to make mistakes.  The Irish have played the grunt  of their schedule, but there are more than enough games where they could trip up.  All it takes is a mistake or two against a team like Virginia Tech this week, or a Syracuse or USC down the road for the Irish's playoff hopes come crashing down.
Ian Book was not named the starter out of Fall Camp, despite him playing last year. This will be the compelling thing to look at with Notre Dame going forward.  I understand teams like Clemson waiting until a few games in to name a guy like Trevor Lawrence the starter.  Lawrence had never played before and thus you need to  see how he performs.  Once it's obvious that the new guy is the better player, you plug and play (or transfer).  With Book though, it's a different story.  He was on the team last year, and he played a good bit.  This wasn't a new kid on the block having to pass a test to become the new BMOC.  This was a guy not being able to beat out a player in camp.  What I'm getting to is this: Wimbush wasn't playing terrible, but with Book coming in there has been an obvious jolt in the arm for the Irish offense.  Is this Book riding a hot streak, Or is this the legitimate Ian Book?  We won't know until the clock strikes midnight…if it ever does.
An interesting situation to think about is what will happen if Notre Dame loses a game against a ranked team down the road.  It could happen this weekend for instance. If that happens, even more chaos could ensue because how would you judge a 1 loss conference champion against a 1-loss Irish.  If that 1-loss champion comes out of the Pac-12 or Big-12, it's likely the Irish have the better resume.  This in my opinion is the biggest story line going forward.
2) Clemson…needs to Improve.
The Trevor Lawrence experiment ended in near disaster game 1 as the kid got absolutely ROCKED and subsequently sent out of the game.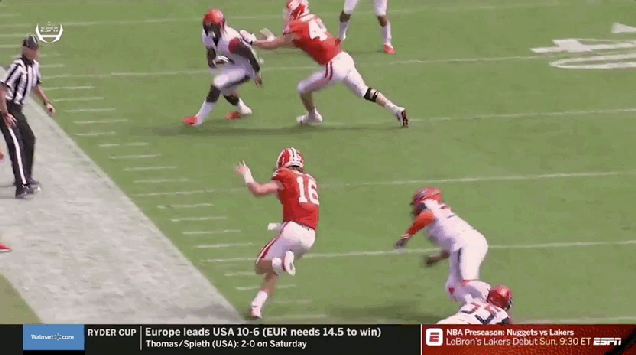 That being said, if we're being honest he wasn't the Messiah Clemson had been looking for.  It's a small sample size, but he was 10/15 for 93 yards and no TD's against a Syracuse defense that leaves much to be desired.  I'm in no way, shape, or form dismissing Lawrence or Clemson, but if they want to be a legitimate National Championship contender and not the placeholder they were last year they need  to improve.  And fast.  One positive for the tigers fans out there, the defense looked salty holding a Dino Babers led offense to just 23 points.  That defense will keep them in every game through the ACC championship regardless of how dynamic the offense is or isn't, but come playoff time, they'll need to throw some points on the board.  Last year's playoffs clearly showed; no matter how many dawgs you got on your defense an offensive juggernaut will throw some points on your dome.
3) Kyler Murray is going to put up video game numbers, whereas…Tua Tag* will not.
And a lot  of this has to do with the defenses of their teams.  The Sooners defense led by their cowardly leader Mike Stoops will keep Kyler Murray on the field, because they are going to give up points.  Alabama on the other hand, doesn't look like it's going to.   Credit some of this to the teams they are playing, but despite beating up on some little sisters of the poor, it doesn't look like ANYONE is going to fuck with  Alabama anytime soon.  We'll learn a whole looooot about Tua on 11/3 as they travel to Baton Rouge in what will surely be a night  game with HUGE implications.  Until then though, it's unlikely we see him in the second half of a game.  Think of how absurd that is.  Pundits like to harp on how mighty the SEC is, which there is some validity to, but it's likely Tua will play THREE conference games and not see the second half.  Unreal.
Expect to see similar numbers like this put up.
8/8, 128 yards and 2 touchdowns.
Kyler on the other hand got into a little shootout with the Baylor Bears for a 2 and a half quarters and his stats reflected that.
17/21, 432 yards, and 7 total touchdowns (6 pass, 1 rush)
The bearing of these stats may not necessarily determine these teams fates, although Kyler's likely will, but it could have implications in the Heisman race.  These two fella's in my mind are the two best Quarterbacks in the country and will likely be the two front-runners for the most coveted individual trophy in sports.  That being said, if these trends continue voters will have to decide how to vote with these glaring statistical discrepancies.  It's no fault of  Tua's, he just plays on a team with a wonderful situation where the backup can play for half of every game and win 99% of the time.  It's officially October, and the September Heisman has been hand delivered to Tua's door step.  We've seen players lose their iron-grip on that  sucker in one game before so it's up to Tua to see if he's Lamar Jackson and hold onto it or Leonard Fournette and fumble it at the first sign of conflict.
4) Someone needs to call the Ministry of Magic as The Purple Wizard in Manhattan, KS has turned into a squib.
This game had all the classic signs of a Bill Snyder coached KSU team fighting like hell against a more talented foe.  Except for  one thing.  The win.   The KSU defense held Texas to one offensive touchdown and less than 350 total yards.  The Wildcats didn't turn the ball over, and their only miscue was allowing a safety.   Simply put, that is ALL you can ask for from the Kansas State Football team.  For the past 20 years Bill Snyder has seemingly pulled wins in games like this out of his ass, so one can only assume he can't do that anymore because in his geriatric condition he can't reach that far back and has to have someone else do it for him.
Like the prophet "Lil' Wayne" once said,  and I quote.
The only time I will depend is, when I'm seventy years old
That's when I can't hold my shit within so I shit on myself
'Cause I'm so sick and tired of shitting on everybody else
Bill Snyder has shit on himself to the point where KANSAS(!) might be the best team in the state in the Big-12*.  If that is in fact the case, which we'll find out in November, Kansas State has to take Ol' Yeller out back and do what's necessary.  He can keep his name on the stadium though.
*S/O the new Last Chance U Independence Community College for making this qualifier necessary.
.
.
.
I kid, I kid…Maybe.
5) Michigan is officially OUT of the playoff picture.
Technically this is false.
Realistically I don't like to get bogged down in technicalities though, so realistically this is in fact true.
I watched the Ohio State/Penn State game Saturday night, and after watching some of Michigan during the day it was obvious the Wolverines aren't ready to compete with those teams.  And while a loss to a good Notre Dame team is the only blemish on their schedule, they have struggled mightily on offense against the only two teams with a pulse they have played.
Harbaugh doesn't run an offense where a QB will put up a shit ton of stats, but when you're former 5-star, saver of your job, and second coming of Christ QB is 15/24 for 196 yards and no touchdowns against Northwestern….there's no way you can be confident as a Michigan fan playing those Ohio State or Penn State teams.  No way.  Not to mention the cross-division game AT Wisconsin.  Or the Wolverines other rivalry of the in-state variety.  The Wolverines remaining schedule is ruuuuuuff.  If you look at the Wolverines resume AT THIS CURRENT MOMENT, they have a legitimate shot at the playoff assuming things go their way.  I however, am here to tell you that the prospects of that happening is like living in the straw house that one little pig built.  It's only a matter of time the Big Bad Wolf comes through and blows that bitch over.
Who's the Big Bad Wolf you might ask?
He goes by the "Sawce Gawd of Columbus"
See ya later this week to see what we can learn in Week 6.