I've been sitting on writing these thoughts out for a while now.  Since I now have a medium to jot them down on now I figured I'd discuss the biggest peculiarity in College Football over the past decade.  Recently, LSU blog AndTheValleyShook.com wrote this article on the new LSU transfer QB Joe Burrow while alluding to the lack of performance seen at the quarterback position for seemingly forever for Tiger fans.
As a fifth year senior, Matt Flynn (Shoutout Tyler, TX) replaced #1 overall pick Jamarcus Russel and led the 2007 LSU Tigers to a resounding win over the Ohio State Buckeyes in the National Championship.  Since that bowl victory a curse has hovered over the LSU Tiger football program keeping them from being elite.
Traditionally known as a defensive stalwart throughout the last decade, LSU has never had a prolific offense.  They utilize a classic version of the pro-style offense, mostly out of the I-Formation, and leans on their runningbacks for production.  Guys like  Derrius Guice and Leonard Fournette have been great in these roles, and conversely have been first/second round draft picks.  On top of that, guys like Jeremy Hill, Alfred Blue, Steven Ridley, and Spencer Ware were all also good enough runningbacks to make it into the NFL.  With consistently good defenses and NFL caliber runningbacks, LSU seemingly had the same recipe for success it had in 2007 to continue their run as an elite program and National Championship contenders.  That however, has not been the case.  Case in point; since 2007 LSU has made only one BCS/Playoff game.  That being the "Game of the Century" rematch which might have actually been the inspiration for this blog, more on that later.
Why then, with the recipe for success still intact has LSU's production dropped off so substantially? It's not like Matt Flynn was a world beater under center.
That, my dear readers is why this is the biggest peculiarity of the past decade in College Football.  You don't HAVE to have a world beater under center to be successful in the LSU system.  Chances are if you can put up 25 points or so in a given game, especially with how the SEC offenses were the past decade, you should have success.  As long as a guy can manage a game back there and limit turnovers, the running game and defense should be able to lead the team to victory.   I mean for God's sake take a look at the defenders LSU has put in the league.  As of last season (2017), LSU had more players in the NFL than ANY other team.  Not 'Bama, not Ohio State, not Florida State.  LSU had the most, and in fact had 6 more than the second place team, the Florida Gators believe it or not.  This is indicative of the talent that has passed through Baton Rouge recently, proving that there were plenty of teams (if not all of them) in the past decade with National Championship level talent.
A new metric of sorts has gained popularity recently that analyzes teams level of upper echelon recruits.  Sure, recruiting can be a crap-shoot at times, but the more high level athletes you sign for your team the more likely you are to have success.  A "Blue-Chip" athlete is a player with 4 or 5 stars on the 5-star scale of recruiting rankings.  The past decade, every National Champion has had over 50% of their roster falling into the blue chip category. LSU has fallen into this category each year as well for the last decade.  So why then, has a team that continuously recruits a plethora of NFL talent to a system poised for success been so insignificant for the majority of the National Championship races the past decade?  Well for starters, lets take a trip down memory lane and look at the Quarterbacks LSU has recruited since that 2007 National Championship.
2007
2008
2009
2010
2011
*Mettenberger, in defense of the verbal abuse of the rest of the guys that happens below, had the sole unequivocally good season for an LSU QB in 2013.  Odell Beckham Jr. and Jarvis Landry certainly don't hurt, but Mett was legit that season.
It would be remiss of me to write this blog and not shoutout an all-time recruiting headshot. I'm not sure how it gets any more "Southern QB' than this right here.
2012
2013
2014
2015
2016
There you have it.  The players recruited to LSU at the Quarterback position from 2007-2016.  13 in total.  You'll notice, most of these guys were no shmuck coming out of highschool with 9/13 being blue-chip prospects.  One, Russell Shepard was a 5 star and the #7 overall player PERIOD in the his graduating class.  It's only fitting that throughout this decade of despair for LSU their highest rated quarterback recruit ultimately moved to receiver.  Anyhow, at least on the surface, bringing in talent to Baton Rouge at the Quarterback position has never been the issue.  They have had multiple highly rated Quarterbacks on their roster every year the past decade.  That to me indicates one of two things.
1: They can't develop the talent they bring in worth a shit.
-OR-
2: They are recruiting the wrong type of players for their scheme.
The answer lies somewhere in the middle.  In the scheme that LSU runs the Quarterback rarely has to make plays that require superb ability.  Their runningbacks chew up yardage like a wood-chipper, and when the offense is eventually faced with a third down the chances are it's short one  As long as their QB can convert these consistently they will control the clock, wear down the opponents defense, and likely bust some big runs in the second half.  The issue LSU has been faced with is they haven't been able to do that.
Look at what Matt Flynn was as a Quarterback–Pro-style pocket passer.  While his arm strength never brought special attention he had the ability to put the ball where it needed to be on a consistent basis.  11 Quarterbacks were drafted ahead of him in the 2008 draft.  Definitely not a world-beater.  Why then did LSU move away from that formula and recruit dual-threat guys to play under center?  With the speed on the edges in the SEC, a mobile QB has to be other worldly to be successful and even the guys like Cam Newton, Tim Tebow, Dak Prescott and Johnny Manziel had the ability to make throws when circumstance necessitated it. Despite what Rivals.com says, there is no way in hell Jordan Jefferson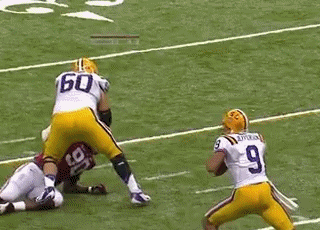 should be considered a Pro-style passer; which makes 7/13 of the aforementioned Quarterback recruits dual-threat.  For those uninitiated Dual-Threat is usually a nice way of saying "A better runner than passer".  As has been established, literally all a QB needs to do in the LSU system to have success is to be able to convert a 3rd down every now and then, so why are they bringing in players whose skill set doesn't match that description?  Remember when Jordan Jefferson didn't lead his championship caliber team past midfield the whole game?  Imagine if a guy with just an OUNCE of passing ability was back there. Hmm.
On the flip side of that, Jarret Lee, Zach Lee, and Hayden Rettig were all talented guys coming out of high-school that matched the description of what LSU needed.  Rettig transferred early in his career and neither Jarret or Zach Lee proved very skillful at the college level.  A guy like Stephen Rivers (Phillips brother) wasn't a world beater coming out of highschool, but its not like he was trash.  At #19 pocket passer in the nation you might think he would have a decent chance of beating out Brandon Harris after seeing his abysmal production; but nope.  I mean Jesus Christ, when a top tier SEC team has to start a transfer who couldn't play at PURDUE?!, things are ROUGH.
Here is LSU's offensive production from 2007-2016.
Note: With high flying spread offenses geared to speed and maximizing plays run, I used yards per play as opposed to total yards as a way to level things out across the board.
| | |
| --- | --- |
| Year | Yards/Play Offense National Rank |
| 2016 | 13 |
| 2015 | 11 |
| 2014 | 71 |
| 2013 | 12 |
| 2012 | 74 |
| 2011 | 36 |
| 2010 | 68 |
| 2009 | 87 |
| 2008 | 67 |
| 9 Year Avg. | 48.77777778 |
I will say, some of those more recent teams surprised me but overall the offense has been consistently unimpressive.  Now lets take a peek at the defense during that same time period.
| | | |
| --- | --- | --- |
| | Defensive/ppg rank | Yards/Play Defensive Rank |
| 2016 | 5 | 5 |
| 2015 | 37 | 30 |
| 2014 | 6 | 26 |
| 2013 | 22 | 34 |
| 2012 | 10 | 7 |
| 2011 | 2 | 2 |
| 2010 | 13 | 26 |
| 2009 | 10 | 17 |
| 2008 | 58 | 45 |
| 9 Year Avg. | 18.11111111 | 21.33333333 |
That 2016 team looks notable on the surface, top 15 offense and a top 5 defense.  BUT THAT'S WHY FreakyT DOESN'T MERELY LOOK AT THE SURFACE. In their 4 losses to Wisconsin, Florida, Alabama and Auburn they averaged 9.25 ppg while they stuffed the stat sheet against teams like Jacksonville St., Southern Miss., and Missouri proving again when they need to move the ball they had the same issue they've had for a decade. Anyways, back to the task at hand.
A few things jump off the page to me on those charts.  During 2009-2014 John Chavis was renowned across the country as an incredible defensive coordinator which is evidenced by the stats.  During those years specifically, the tigers averaged 10th in defensive/ppg and 19th in Yards/Play, but specifically those 2011 and 2012 teams were special.  With just a capable offense the Tigers likely would have won the 2011 game against the Tide, as that defense was plainly unreal.  Guys like Eric Reid, Tyrann Mathieu, Mo Claiborne, Barkevious Mingo, Sam Minter and Michael Brockers held high powered offenses like Arkansas and Georgia to 17 and 10 points respectively.  The 2012 team was almost just as good, but they were held back by a Zach Mettenberger who hadn't quite developed into a formidable passer.  Ironically, the next year, which was mentioned previously is the one outlier on QB play, when Mettenberger WAS a good passer, the defense had its worst year under Chavis.
In closing I would like to make one thing very clear.  I'm not here to bash LSU or to point out their shortcomings.  Hell, I stomached through writing a complimentary article on Alabama the other day for God's sake.  I wrote it to point out just how absolutely absurd it is that they haven't been able to find a Quarterback capable of leading a roster loaded with NFL talent to routine success.  They bring in high caliber players out of high school regularly, they don't run an overly advanced scheme, and as has been proven, they don't need an All-Conference guy under center to win a Championship.   So the fact that they have gone 10 years without even seeing something average under center…baffling.